Tweet
http://www.grantland.com/story/_/id/8097092/a-visit-all-england-club-wimbledon-kickoff-2012-tournament
The Death's-Head of Wimbledon, Part 1
Strangeness in strawberry and cream at the All England Club
By Brian Phillips
M
y first two days at Wimbledon were an incomprehensible hell of double-decker buses, foliage, screaming soccer fans, SIM cards, underground zones, shrubbery, security guards, and scaffolding. I checked into my hotel on Saturday afternoon, and at no point since that moment have I understood what was happening, or had working 3G access. I have stood too long beside a hedge at the All England Lawn Tennis and Croquet Club and looked down to find that my arm was crawling with tiny spiders. I have been inside TV control rooms with 80 humming monitors showing views of empty tennis courts. I have had my right to exist challenged by Wimbledon security. I have eavesdropped on two pristinely dressed line judges complaining about the cost of NBA tickets. I have been passed by John McEnroe in a hallway at the precise moment he turned around to yell, "Thanks for the sandwich!"
I landed at Heathrow at around 11 a.m. — mission: cover Wimbledon, the full fortnight, the works — and almost immediately launched on a series of blunders so far-reaching and emotionally catastrophic that it's a miracle I'm still here at all. My first mistake was believing I could decode the London bus system using nothing but reason and goodwill. I could have taken cabs, or gone by the Underground, but somehow I'd gotten the idea that I had to ride to the tournament every day on a giant red double-decker bus. This earth, this realm, this whatever, I guess. So when I got to my hotel and found it encased in scaffolding and crawling with construction workers (which it turned out
was
mentioned on the website, but only if you scrolled down), I set out to escape right away. I stopped at the pub next door for a quick cheeseburger and bourbon, then decided, "Hey, I'll get on a bus."
I started out by having the following conversation with a driver on the 131 toward Tooting Broadway.
1
ME: Does this bus go to Wimbledon?
DRIVER: Wimbledon?
ME: Wimbledon.
DRIVER: [Ignores me in order to exchange frenzied insults with a muscular Ukrainian man who feels that the driver has somehow not properly accommodated him and his 5-year-old son.]
[ ... ]
UKRAINIAN MAN: You hate your job, you change job! You change job, you not take out on Grnbash!2
[Ukrainian man leaves.]
ME: Wimbledon?
DRIVER: [Has coughing fit, groans "fuck me."]
I got on the bus. There followed an hours-long odyssey during which I made two important discoveries: (1) that London is, in a way I'd never understood before, a vast and sleeping brain, a neural net crisscrossed with dreams, and that the red double-decker buses are the vessels that carry these dreams; and (2) that the iPhone SIM card I had picked up at a vending machine at Heathrow just 100 percent did not work.
Without GPS, I had no choice but to change buses at random (the way our ancestors traveled), and I made every conceivable error that goes with trying to decipher an information system that works on dream logic. I took the 93 toward North Cheam — like an idiot! — when I thought I was going to Putney Bridge. I missed a stop while watching a cane-carrying blind man have a conversation with a Buddhist monk. I rode out to the blurry fringes of London, feeling myself being carried farther and farther from reality. Eventually I became acclimated to the system and realized that if you just paid attention to the signs it was actually very easy to work out. I now recognize this moment as the one in which I lost contact with reality altogether.
I went back to the hotel. The next morning I rode out to the All England without incident.
I
never expected Wimbledon to make sense. There's something pretty obviously gone about all that tradition, the strawberries and cream, the crisp whites, the lawns. That whole last-hurrah-of-the-Empire vibe that makes Wimbledon (way more than the British Open) the English equivalent of the Masters. I had tried to make some notes about this in the hotel: umbrellas of the Raj, champagne of the 19th century. All that soft, soft rain, like a whisper lulling you to sleep. The notes petered out in a question mark about the exact color of Queen Elizabeth's lavender-puce Easter outfits.
The moment I arrived at the All England Lawn Tennis and Croquet Club, I was plunged directly into the Apparatus, the gigantic media superstructure that surrounds and engulfs every major international sporting event. At Wimbledon, the Apparatus was so huge, modern, and confusing that it looked like the
Enterprise-D
had exploded all over
Middlemarch
. I was directed by polite but firm security guards toward the Press Centre, a labyrinthine above-ground bunker full of massive bundles of exposed cabling and crates of Diet Coke. This was the day before the tournament started, so no one was on the grounds except reporters, photographers, guys carrying fuzzy-sheathed microphones that made them look like chimney sweeps, TV producers, feral herds of ballboys and ballgirls roving in coordinated outfits, beautiful English girls pushing hand trucks loaded with ice, and tennis players, whom you could instantly recognize because they were the blond demigods yelling at their agents in Czech. But the outside was nothing. Upon entering the media centre I was outfitted with a map of camera positions and given a comprehensive tour of various mixing boards. The place was awe-inspiring in its raw adaptation to a purpose. The hallways were fluorescent and grim, but everyone in them knew exactly where they were going and what they were doing. Everyone was both talking and texting at the same time. It was like walking in on the fourth season of an Aaron Sorkin show — I mean one of the good ones — only if "smart friendship" were replaced by "the swift threat of psychological violence."
My first insight into my future total inadequacy as a Wimbledon correspondent came when I met the WWL's hyper-competent operations producer for the tournament.
"What are you planning?" she asked. "In terms of what angles are you working, what do you need to get the job done?"
"Um," I said (suavely). "I was planning to … like, walk around and, I guess,
look
at stuff."
She was very nice. Everyone was very nice. I went outside, sat down at Court 18, and spent five minutes watching a wizened man with a special grass-combing machine comb the grass. It started raining.
W
hen did it happen that the experience of going to a sporting event became less coherent than the experience of watching one on TV? Was that Super Bowl III? The Dream Team? Wimbledon is, in essence, a far-reaching and multilayered network, a system of information flow overlaid on top of a (relatively, in terms of pure scale) small and insignificant tennis tournament. There are multiple rooms of stats loggers; there are research departments; there are cables as thick as your leg; there are swarms of young couriers pollinating the press room with information sheets and quote sheets and hints about Wi-Fi passwords. It's not chaos, the input/output cycle of the Apparatus; it's order on full blast, and its single driving purpose is to make two weeks of complex and largely simultaneous tennis effortlessly comprehensible to you, the viewer at home. Every simple story line the media spoon-feeds you is the result of furious analytic labor inside the Apparatus. Johnny Mac can break it down because someone was on hand to give him a sandwich. You don't catch much of this at home. That's how the cameras are set up — so you don't see the other cameras.
When you're there, though — I mean when you're at the event, part of the throng, wandering around with your dopey strawberries and champagne — there are no story lines, there are just people who know more or less about tennis. And there's no escaping the electric hum of the Apparatus. The kids and their boom mikes are everywhere. They're just not working for your benefit. You're not there to understand things, unless you just, like, happen to understand them. You, if anything, have become part of the show. You are information to be transmitted elsewhere.
3
There's supposed to be an authenticity about live experience, but it's an authenticity that can be hard to perceive through the artificial layer that's there to broadcast a simulation of that authenticity outward. On TV, everything just looks pretty authentic.
The day the tournament opened, due to a complex and nightmarish credentialing problem that had cost me what was left of my sanity,
4
I had to camp out on an off-limits photography gangplank high above Court 1, a sort of metal-grill Death Star bridge that runs beneath the roof. This was actually a pretty good place to take in the breadth of the tournament. I had a glimpse of the hill, where the regular people were sunning themselves and browsing the club's foldout "where to shop" maps. I could see the throngs of earls, trundling down the paths
en masse
in their crushed khaki trousers and summerweight blazers with geraniums dying in the lapel. The crowd was spread out beneath me like a floral wreath, probably crawling with tiny spiders. And then there was the court, this soft, soft green floating thing, barely part of the scene at all.
It was ambiguous whether I was allowed to be there on the gangplank. Polite but firm security guards kept coming along to evict me. I was confused and sad behind my gigantic sunglasses, and I kept chasing them away by repeating the names of people I'd met in the broadcast-liaison office. Somehow or other this worked. One of the guards looked me over with a mournful expression and said, "Sir, you have no reason to be here."
Welcome to life on Earth
, I thought, but I just muttered: "Lesley said I could be here."
"Oh," he said, marginally brightening. "Well, if Lesley said you have a reason to be here, then you have a reason to be here."
So I was allowed to go on living.
After a while Federer came out to play Albert Ramos. It was my first time seeing Federer in person. The match was nothing, over in 80 minutes, but to me it was almost astonishingly beautiful. That floating court, the blazing whites, the clockwork ballet of the ball retrievers, Federer making up angles against an opponent who couldn't stop him. During the breaks a little man in a newsboy cap came out to measure the nets, to make sure they were the right number of centimeters high. I want Federer to win the tournament, for the simple digested–story line reason that he might not have a better chance to win another major. But in a weird way, the match didn't seem to have anything to do with story lines, or even with the rest of Wimbledon. It was just a discrete, floating event.
From up on my gangplank, the players looked like holograms, or ghosts. And that's the point of Wimbledon, isn't it? To make you feel like you can ride the 493 through SW19 and wind up in 1896 (only with fold-out food court maps)? You could squint just a little at Federer and see him as a transparent image overlaid on another match, maybe the Baddeley twins playing doubles in long pants and cricket sweaters, ladies looking on in their towering Victorian hats. Newspapermen scribbling away. I started imagining — I admit this makes no sense — that the British Empire had died, and its skull had come to rest at the All England Lawn Tennis and Croquet Club. And (this is the nonsense part) I thought that its skull had gone on dreaming. And that as long as we were here, all of us were caught up in its dreams. The spectators, the players, me, were all figments in a slow, dark sleep being broadcast live in 200 languages around the world. (Just like the real British Empire.) I had come here to watch Nadal, Murray, Sharapova, and Djokovic, but maybe I was really here to be turned over in two weeks' worth of dreams. There would be another one tomorrow. I had thought that the rain was the sleepiest part of Wimbledon. Now I wondered whether the rain was really Wimbledon trying to wake up.
I went out to buy an umbrella.
1. Not a typo
2. The name of his son. Conjectural.
3.As I'm about to explain, I watched Roger Federer's opening match from an illicit photographers' crow's nest in Court 1. Every photographer who dropped by took multiple crowd shots.
4. And then also Sunday night I went to watch the English national soccer team lose to Italy at Euro 2012 in a packed London pub. The less said about this experience the better. There were terrifying indications of hysteria and group madness. Everyone was very nice. I showed up at the All-England Lawn Tennis and Croquet Club on Monday behind my largest pair of sunglasses, which are labeled "Psychometry Turtle."
The Death's-Head of Wimbledon, Part 2
Infiltrating the Apparatus only to watch Rafa lose
By
Brian Phillips
http://www.grantland.com/story/_/id/8111420/a-recap-wimbledon-first-week-2012-tournament
A
ctually, I do believe that socialism is just another form of totalitarianism or fascism or any other form of violent autocracy. A distinctly
20th-century
form of violent autocracy, I would add. And I say that although in fact I would also agree that capitalism is as cruel and exploitative as its critics say it is. No, mum, simply turn 'round, follow the curvature of the stadium, and you'll see the queue for the champagne bar just there along the wall to the left. Now, the first basic tenet of economic
theory
… "
The security guard was tall, weedy, and directly behind me, speed-lecturing all this at a younger, shorter, and clearly more impressionable security guard, who listened with a kind of fretful awe. We were walking just outside the ivy-shrouded hulk of Centre Court — a crashed spaceship long since claimed by nature — and there were people everywhere; he kept having to interrupt himself to give directions to girls in Ray-Bans and floppy straw hats. When not advocating armed revolt, he was remarkably polite. I knew he was a security guard because I glanced over my shoulder the first time he name-checked
Anarchy, State, and Utopia
. It was the morning of the second day of Wimbledon.
And the All England Lawn Tennis and Croquet Club was, if you looked at it in a certain way, a kind of utopia unto itself. It had terrified and plotted to destroy me, but I had to admit that the place had its charms: the distant
pock
of tennis balls, the manicured shrubbery, the alcohol. The visual impression put forth by the All England Lawn Tennis and Croquet Club was that of a sunny sea of rich people washing up against an archipelago of green islands: sockless dudes in cobalt or brick-pink flood pants and Sperry Top-Siders drifting slowly along the margins of dark-green stadium walls, green snack kiosks, green recycling bins. The grass of the grass courts was a fine bright algae green. The fluttering ivy was a dull regal green, as was the unmoving fake ivy in the background of the Wimbledon By Ralph Lauren display window. The lenses of the Ray-Ban Wayfarers worn by roughly 96 percent of the crowd were, presumably, GR15: gray-green.
Once you accept that visiting Wimbledon means passing inside a giant invisible skull and surrendering to its dream logic, the place opens up to you
, I thought. I was safely shielded behind my Psychometry Turtles and feeling calmer than I had in days. It was impossible to escape the neural whir of the Apparatus: Here was a burly guy shouldering a video camera attached to a tripod, there was an even burlier guy trying to type on a laptop as he walked. At times a subsection of the crowd even separated and reconstituted itself as a part of the Apparatus — a sort of flying Fifth Column, if you will. When a big-name player would move past, surrounded by his entourage like a boxer on the way to the ring, you could see the image echoed on dozens of held-high cell phones.
But you could let it wash over you
, I thought.
I
caught a couple of matches on Court 18 early, partly by choice, partly out of necessity. My credentials problem still hadn't been worked out, and while there were a few semi-legitimate ways for me to gain access to the big courts, I was tired of dealing with the security force, especially now that I knew it was harboring revolutionaries. (What if they were all in it together? What if Wimbledon was the blinking red light bulb on their giant map of the world?) In the Media Centre, though, there was an out-of-the-way room that ESPN.com shared with Fox Sports and Al Jazeera and makeup for the TV studio next door, and I was allowed to hang out in there. The outer wall was an enormous pane of tinted glass just a few feet from the edge of 18.
So I watched Jarkko Nieminen upset 14th-seeded Feliciano Lopez from way up close. And it's true what they say: Until you've seen really good players way up close, you have not fully appreciated tennis. The combination of Black Sabbath ferocity and Mozartian deftness with which these relatively unheralded and unknown players move on the court — well, it boggles. There was a rally in the fourth set, at 0-0 with Nieminen leading 5-4, and I don't know how this thing would have come off on television, with its multiple drop shots and diving snap-forehands, but in person it left me sort of hopping on one foot and speaking languages I don't know.
The night before, I'd had a realization, one that left me feeling more like I understood what was happening, even though it was a realization that only concerned my own brain's weird workings. The realization was that I had been especially bummed that England was trying to drive me insane and kill me because (sincerity Klaxon) England had meant something to my life. I grew up in Oklahoma, in a small town. I was close to my grandmother, my mom's mom, who drowned, along with my grandfather, when I was 9. They had taken a little rowboat out on the lake near our town so my grandfather could set some fishing lines. Then we didn't hear from them. The medical conclusion, really just a guess, after their bodies were found was that my grandfather had had a heart attack and fallen out of the boat, and that my grandmother, who was wearing a life preserver, had died trying to save him.
Anyway, my grandmother was an Anglophile, one of those past-master England-fanciers who used to spring up in the middle of the American nowhere. She watched
Masterpiece Theatre
on PBS, read
All Creatures Great and Small
, drank tea instead of coffee,
1
loved floral china — any portable fragment of civilization she could bring to what had been, when she was younger, still practically the frontier. Not long before they died they took a trip to London and brought back a Burberry raincoat for her and separate photos of each of them standing beside the famous red telephone booths. This seemed like a huge, family-wide deal at the time. My grandfather gave me a handful of funny-looking coins, which I put in a Transformers lunchbox.
Like a lot of small-town kids, I'd guess, I spent huge chunks of my childhood fantasizing about other places. I was an avid collector of elsewheres, places where life would be more exciting, more beautiful, more adequate to my imagination. (Current small-town kids, spare yourselves the disappointment. It isn't Rooster City, it's been you all along.) From my grandmother, I suppose, I had taken the sense that England was a particularly magical place. There had been knights there, and swordfights, and Shakespeare, and it was where all the poets had lived, or at least the ones I thought I liked. I knew I couldn't go to Middle-earth, but England was
really there
, and the thought of the things I could say there and see there, how my real self could emerge there — not the bundle of nerves and sarcasm I was carrying around like a sack — saw me through the occasional math class.
Later, like everybody else, I discovered Monty Python and Douglas Adams and realized that England was the last place to look to escape either nerves or sarcasm. But some part of that feeling —
an island with castles
— must have stuck.
2
At least enough for me to be hit medium-hard by the fact that I'd gotten off the airplane and immediately gone down in a whirlpool of double-decker buses.
3
W
ell, things were looking up. But I still hadn't been to Centre Court, and I needed to ninja-conjure a way in, fast. I'd had a lead on a TV commentary booth no one was using, don't ask how I got it,
4
and late in the day the Apparatus finally came through: I got the passcode to the inner door off the gangway high up in the stadium. (
Dream logic. Don't question it,
I thought.) I memorized it, swallowed the secret message it arrived in, and scrambled up there, Psychometry Turtles in place. To get where I was going you have to climb the outer stadium steps all the way to the top, way up in the parapets, then dodge lost or bathroom-seeking fans down a long hallway full of semi-soundproof rooms reserved for TV announcers. The one I was looking for was a couple of doors down from where the main ESPN commentators call the games.
The passcode worked. The door opened. I got my first, glassed-in view of the most famous court in tennis.
There was Andy Murray, destroying Nikolay Davydenko. The window looked down over the crowd right under the line of the roof — unobstructed view, high up, at a slight angle from the classic TV shot aligned with the royal box. Perfect. If Centre Court was a skull, these were the eyes. There were a bunch of fidgety 1980s-looking electronic hookups and two TV monitors in my booth. Because of the way the roof and the shadow of the roof lined up, the court looked like the glowing far end of a tunnel, a bright rectangle at the bottom of a long dark slope made of the backs of people's heads.
There was one other guy in here, a couple of booths down, a forlorn-sounding Croatian commentator who was calling the match by himself.
And so far, fingers crossed, my passcode has kept working. I've been able to see everything on Centre Court for the last couple of days, mostly a progression of forgettable early-round matches that have still been pretty mesmerizing to me. I watched Federer glide past Fognini; watched Murray put down Davydenko and then struggle with the 6-foot-10 God of Serves, Ivo Karlovic; watched Clijsters beat Hlavackova; and I watched Serena Williams (oh my God) take apart Melinda Czink. I have taken my shoes off. I have made myself at home. I have gone to the Carphone Warehouse
5
on High Street, where Mohammad helped me find a SIM card that worked. I have figured out how to get the Wimbledon press-booth TV monitors to play soccer games. In the muffled distance, at all times, there has been a quiet drone of Croatian commentary, sometimes German commentary or Dutch commentary instead.
The weird thing is that although I'm lodged in the deep heart's core of the Apparatus — a TV commentary booth! — I have a much weaker sense of THE TOURNAMENT as a totality than I do when I'm watching on TV. I barely know what's happened on Courts 2 and 3, or what the big story lines are.
6
It just feels like I'm in a place, which is interesting. How often are you entirely, even mostly, where you are? Periodically tennis players come out and play tennis in the place, and I like it when this happens. Information is undoubtedly raging all around me, but most of it passes me by. In the commentary booth, I would have to be the source of the information, and I'm (hoo boy) not commentating.
I've gotten fascinated, up there, by the military rigor and apparently inexhaustible numbers of the ballboys and ballgirls. Watching them change shifts is like watching a North Korean ballet. I think they may be a sleeper paramilitary force, built to stop the security guards come the revolution. I'm 99 percent sure they will win.
I saw Nadal lose. It was extraordinary, even given that Rafa is sometimes weaker in the early rounds of Wimbledon than the late ones (because the grass hasn't slowed down yet). He came out looking so energetic and purposeful that I compared watching him to the first time I saw broadband Internet. I mean, Rafa was
coiled
. He looked like a hunting tiger when he went to get a towel; when he was serving, he looked like something that hunts a tiger. But Rosol just would not spook, even after losing the first-set tiebreak 9-11, even after letting Rafa back in the match by dropping the fourth 2-6. I've gotten so used to Rafa being knocked back and then drawing on that deep inner lava flow that makes him who he is and then sneer-serving his way to total razing victory that it simply never occurred to me, even during the stress of most of the fifth set, that he would lose. But Rosol, ranked 100th or so in the world, playing in the main event at Wimbledon for the first time, coming off five straight years of first-round Wimbledon
qualifying-tournament
losses … Rosol just would. Not. Spook.
The serves kept cracking. Sometimes you catch a break. At one point, I think in the third set, Rafa sprinted at the net after a serve, and Rosol's return wrong-footed him, and he fell awkwardly, with his legs splayed in unpleasant directions, and took a long time getting up. He went back (slowly) to the baseline, then tried to do a little bob-and-weave to get his juices flowing, only right after he started he stopped and just stood there with his head down. It was the first time I could remember seeing Rafa look like raw determination was failing him.
On principle, I switched my Wimbledon TV monitor to the Germany-Italy Euro 2012 semifinal. I glanced at it every now and again. The fans outside my little hiding place kept peering in through the glass to see the score. But we all kept going back to the tennis match in front of us. I'm a Nadal fan, don't get me wrong, but it was amazing to see Rosol, this guy out of nowhere, going toe to toe with the most implacable machine in tennis. And the best thing about a great live sporting event is that when it's happening, there's no place better — I mean there's no place you'd rather be.
1. I still do this, probably because of her.
2. I remember, for instance, how floored I was years later, as an adult, when I first heard the Kinks' "Oklahoma U. S. A.," about working-class Londoners fantasizing about life on the prairie. But that's backwards! I thought.
3. This wasn't, I should confess, my first trip to England. But most of my earlier time in the country had involved chasing after my then-potential girlfriend, now-wife, who went to grad school here, which sort of enormously muted the "Wow, I'm in England" effect.
4. Mostly by crying in offices.
5. OK, not at Carphone Warehouse.
6. Equal pay? I support it.
The Death's-Head of Wimbledon, Part 3
Toilet evaluations, stampeding elderly ladies, and further adventures in reporting at the All England Club
By
Brian Phillips
http://www.grantland.com/story/_/id/8124851/the-second-week-wimbledon-all-england-club
T
he toilets at Wimbledon are spectacular. Like all American sports fans, I grew up knowing sports-stadium bathrooms as sites of almost unimaginable psychic trauma, humid chambers crammed with alingual, porcine men pissing savagely into troughs. Places whose stained and broken floor tiles exerted a viscous, ropy stickiness. Places where civilization, properly construed, did not exist. Well, I'm happy to report that you can leave those preconceptions at the door when you book your ticket to the All England Lawn Tennis and Croquet Club. Yes,
sir
. The public men's room outside my little, disused commentary booth at Centre Court would not be embarrassed to show its face at the United Nations, or in a restaurant that sold wine by the carafe.
I'm talking wood stall doors that go all the way down to the floor. Burnished steel. Big, high-fauceted, mathematically hemispherical sinks. The sort of towel dispensers into which a loop of Jesus-is-this-actual-
cloth
keeps feeding back into itself as you pull fresh towel downward. The happy murmur of guys with Ray-Ban Wayfarers propped on their heads not being traumatized
at all
. It occurred to me on one visit that the mid-century dream of the airport must have looked like this — all these modernist curves, space and comfort, the vertices in the transportation network of the future in chrome and wood and glass. A little mood lighting to get you where you need to go. I saw one guy, a tall, distinguished-looking gentleman in a navy blazer and crushed linen pants, give in to the impulse of freedom encouraged by this environment by doing the full no-hands routine at the urinal, fingers laced behind his head, elbow-wings soaring, subtly waggling his hips, just luxuriantly whizzing, landing that first serve a hundred percent of the time.
I
've settled into a Wimbledon routine. Every morning, construction noise at my hotel wakes me up around 8:07. I shower and get dressed. To exit the hotel, I have to find my way through an impromptu maze of construction barricades populated entirely with construction workers and baffled English ladies looking for the breakfast. The hallways all have a line of support pillars running down their middles. The support pillars have uniformly been wallpapered with an unsettling M.C. Escherish "London" pattern: dark monumental towers and bridges folding into one another, occasional blips of red in the form of double-decker buses apparently doomed to unceasingly traverse this hellscape. On closer inspection, the double-decker buses are revealed to be repeated iterations of the same double-decker bus, pasted in at a horrific angle. I can't even conjure a narrative to cover the sort of post-apocalyptic tourist-board scenario that could explain the dystopian fate of this bus. I've enclosed a picture so you can see how truly unsettling it is, as wallpaper.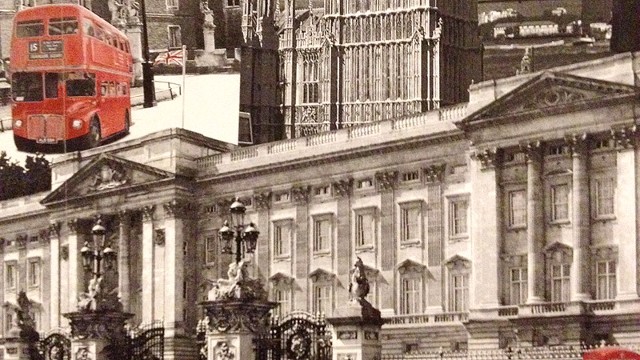 There is so much scaffolding around my hotel that I am tempted to say the hotel is shaggy with scaffolding.
131 toward Kingston. 93 toward Putney Bridge. South London a pinkish blur in the window. The closer you get to the All England Lawn Tennis and Croquet Club, the more shops have tennis balls hung in their windows, strings at different lengths to simulate a "bouncing" effect. Outside Wimbledon Station, the queue for the direct shuttle to the tournament snakes through a series of crowd-control dividers draped in Marks & Spencer–branded "1/2 price strawberries" bunting.
I like the walk from my bus stop to the club because the club-bound foot traffic at that point has the highest number of non-rich people, per capita, of any part of the tournament. This is especially true on the second Monday, the famous "year's best day of tennis," when all 32 remaining male and female players play for a spot in the quarterfinals. Just a fantastic tennis crowd turns out for this event. Don't get me wrong, there's no shortage of earls and countesses — lots of Grace Kellyish headscarves, lots of heart-stopping pairs of legs emerging from indescribable short dresses — but also jean shorts and backpacks and sweatshirts and (soul-wrenchingly) sport coats with the arm tags still attached.
I catch a glimpse of that rumored and hugely likable figure, the tennis fan in a black leather motorcycle jacket. Two of the big stories at this year's Wimbledon are the inspiring runs being made by a couple of Americans (Mardy Fish, who had a recent heart scare, and Brian Baker, who missed years with various injuries, both of whom have made it through to the second week) and the struggles of the top seeds (Nadal out, Federer, Djokovic, Murray all dropping sets), and the crowd's conversation murmurously runs through both. I walk part of the way with a pair of delighted fat ladies from London, somehow dressed in non-matching silk halter tops and capri pants, who come every year to watch Federer because, one says, "well, he does grow on you over the years, doesn't he?"
"
And
he's simply lovely," her friend chirrs.
It soon becomes clear that the ladies know far more about, e.g., Federer's backhand technique and fluctuating first-serve percentage than I do, and I like them immensely, and we are passed on the sidewalk by a man in head-to-toe Harris tweed who has unselfconsciously made a walking-stick out of his umbrella.
G
ate 5. My press badge is laser-scanned by a smiling blonde security guard in a dark blue police-type hat. My bag is searched by one of the francophone African guys set up behind the perimeter of long folding tables that's been erected inside the gates. I attempt to make small talk with my bag-searcher, but my effort is non-francophone and futile. "
S'il vous plaît
," he says, beckoning the person behind me forward.
There's tennis everywhere at the AELTCC — medium-size tennis on the monitors in stadium gangways, tiny tennis on people's phones, gargantuan tennis on the jumbo screen on Court 1 opposite the hill — but in my little commentary booth, the first live tennis of the day is always completely surprising. The court is so much longer than you remember and is just implausibly green. You notice things in person that you might not spot on TV. The way Jie Zheng, who lost a tough three-setter to Serena Williams on Saturday, breaks out of her hunched-over service-return stance by performing a funny sequence of two-footed forward hops. The way Djokovic checks his racket strings between points, glaring at the spacing like a father disappointed in his son. The way each camera in the row of video cameras in the access trench alongside the court stays trained, during a point, on one player or object, tracking Murray, tracking Serena, tracking, tracking, tracking, like a cat waiting to pounce on a bird.
The Croatian announcer two booths to my left is always (but softly!) announcing his head off.
I
always root for five-and-three-setters, partly because I love tennis, but partly because my next stop is the Broadcast Centre, and this is a zone of Wimbledon I have come to regard with a kind of battle-hardened dread.
The downside of the Broadcast Centre is that it is a grim, confusing bunker full of terrifying machinery and stressed-out people and blinking lights. The inescapable lure of the Broadcast Centre, me-wise, is that it contains a snack closet from which I can steal Diet Cokes. I visit the Broadcast Centre somewhere on the north side of 45 times per day. Each time I have the same uneasy feeling of passing behind the curtain of the Apparatus. This is where the brains and computers perform their major labor of filtering, distilling, and processing Wimbledon's jumble of discrete events into Major Narratives for you to follow from home.
Weirdly, the Broadcast Centre is also where I have the strongest impression of moving among the dreams of the old All England Club, all those lost translucent visions. I'll be walking down a hallway half the ceiling of which is a massed bundle of purple-and-green Cat 5 Ethernet cabling,
1
a hallway in which a lone, rumpled Japanese man is yelling in Japanese into an iPhone, and suddenly I half-see a girl in a bonnet and ruffled hoop skirt knock a croquet ball through a wicket. It's, I think the word would be, freaky. There are rooms full of racks of what look like massive servers, disemboweled wires worming everywhere, and in among the voltage meters I see picnicking gentlemen passing bowls full of cream in monocles and straw derby hats. There are cold black rooms lined with TV monitors and test patterns and bearded men roaring, "Three … three … get me three the fuck
now
," and I see Bill Tilden leaning in one corner, hair like black tinfoil, taking a drag on one of his beloved Lucky Strikes. Chrissy Evert is walking down a corridor encircled by her ESPN entourage. I see them plowing through some happy village-green cricket match that's being batted and bowled by ghosts.
2
I have no idea what this means. Sometimes it's raining when I go back outside, Diet Coke in hand, sometimes it isn't.
D
uring Federer's tremendous five-set win over Julien Benneteau on Friday night, a theory takes shape in my mind about why tennis crowds are so great.
3
Football, soccer, hockey, even basketball — one of the major psychoperceptual elements of each game is that the complexity of the action makes it impossible to be aware of everything that's happening simultaneously. You're trying to follow the intentions of up to 22 human minds, each attempting to execute secret, only partly inferable tactical instructions, each reacting to a vast number of variables including the in-the-moment actions of the other 21 players (both allied and against), each with the possibility of discarding the instructions and going it alone, etc. In technical terms, there's a lot of crashing around. There's a lot of confusion. And it's maybe of interest that the relative aggro-charge and kill-the-other-guy frenzy of each sport's fans is pretty directly proportional to the degree of perceived chaos each sport contains — football, which even highly paid experts can barely decipher without extensive recourse to tape, being particularly screamy and knock-the-fucker's-head-off. There's a weird adrenaline rush in the way these sports push you away, perceptually.
It's different in tennis. Tennis, while still being pretty complex from the standpoint of physics, gives you virtually all the information you need to understand the action at first glance. Tennis draws you in. You can see, when Julien Benneteau is charging down a Roger Federer drop shot, how fast he's moving versus how fast the ball is moving, whether or not he's going to get there, what his options will be if he does, whether he'll have to play another sliced drop shot or will get the angle to smack the ball cross-court. You can perceive, with a few omissions like degree of spin and sun-and-wind conditions, almost exactly what Julien Benneteau can perceive; you can play the shot with him in your imagination. And then you can play the next shot with Federer. And I think that's just huge in terms of how tennis crowds act, why they seem so happy and friendly, etc. Some people want Federer to win and some people want Benneteau to win, but both sets of fans are jumping back and forth, imaginarily, from one guy to the other throughout each game. The fans are drawn together, with each other and with the players, because they're all sympathetically sharing the players' mental space. And if that sounds like nonsense, then I encourage you to come to Wimbledon, get seats anywhere on Centre Court, and wait for the first drop-shot gasp, that astonishing collective
oooohhhhh
of 14,000 people reacting as one to a shot they just barely saw coming. I submit that the drop-shot gasp is one of the most purely magical sounds in sports. It's my favorite part, easy, of sitting on Centre Court.
Federer beats Benneteau in five sets and the crowd breaks up.
A
fter the night's last big match, the stadium stairwells are vaults of oxygen-starved crush, real soccer-tragedy stuff, rich people in brass buttons and pashmina wraps packed in tight and sort of helplessly spooning each other, large dollops of embarrassed English stoicism all around.
One of the central logistical facts of life at the AELTCC is that rich people, especially older rich people, are typically way out of practice when it comes to maneuvering in dense crowds. They lack subjugation awareness, that sense that the crowd controls you. You see accidents that are best described as either "ping-pong type" or "Marxist." An older lady who left her commemorative match programme back at her seat will realize her mistake mid-stairwell and execute an instant, self-assured stop-turn, never dreaming that the stairs behind her are already sealed off with other, equally space-commanding but currently desperate-to-descend older ladies, who are in turn being helplessly smooshed downward by the still more confident and downward-escape-determined older ladies above them, all of them clutching commemorative match programmes, self-assuredly. Whole sections of stairwell can be wiped out by one poorly timed text from a granddaughter in New Haven. Let a jowly burgher with a green plaid sport coat catch a glimpse of a recycling bin at the wrong time and the results are horrific. Eventually most people make it out with only nonfatal injuries. Everyone is very nice.
M
onday night. Rain on the way off the grounds. Clumps of umbrellas floating over the crowd like lily pads. Rain has suspended play with most of the late matches still in progress, only Federer, Youzhny, and Djokovic definitively through on the men's side, Sharapova and Clijsters out. Rosol, who beat Nadal, was annihilated in his very next match against Philipp Kohlschreiber, who then beat Brian Baker. On the bus ride back to the hotel, I perform the ritual of chronicling my failings as a Wimbledon correspondent: I don't ask questions in interviews, I'm not writing enough about the tennis. In terms of getting the job done, I don't even know what resources I need. I'm standing in the aisle now, and the guy in the seat ahead of me, who looks like a squishy Willie Nelson, is scribbling something in a stenographic notebook, a numbered list, which I can just about make out.
1. When fever struck.
2. The vacuum experience.
There's a third entry, which he's furiously crossing out. I have no idea what this means. A poem? A list of chapters in a sci-fi novel?
His memoirs?
But it's terrible, just terrible. I notice all the wrong things. Did I tell you that the restaurant where all the line judges eat is called — I swear — The Officials' Buttery? You can see them congregated
en masse
around the outdoor tables in the evenings, Ralph Lauren jackets everywhere, looking like they all bought the same cocktails-on-Nantucket costume for Halloween. Or that the ball kids, when they move around the grounds, travel in single file? I take out the spy novel I'm reading and spend a couple of stops with secret Nazi data caches being dredged out of Austrian lakes, hidden networks being exposed. I forget to take off my goofy necklace of press credentials until I'm already back in my room.
1. As far as I can make out, all the Cat 5 Ethernet cabling at the All England Lawn Tennis and Croquet Club is either purple or green, the official Wimbledon brand colors.
2. It's maybe worth pointing out that my interactions with the well-known American TV personalities here at Wimbledon have been minor, and also extremely one-sided in the sense that only I noticed they were happening. I've seen a couple of McEnroes in candid moments. I almost bumped into Hannah Storm at one point. I accidentally hip-checked Brad Gilbert while reaching for a bendy straw in the media cafeteria. My memoirs will not soon be available in paperback.
3. This is the optimistic version of the theory, the one that doesn't depend on the innate intelligence/politeness of rich people.
Subscribe in a reader